TRANSPORTATION (GETTING AROUND)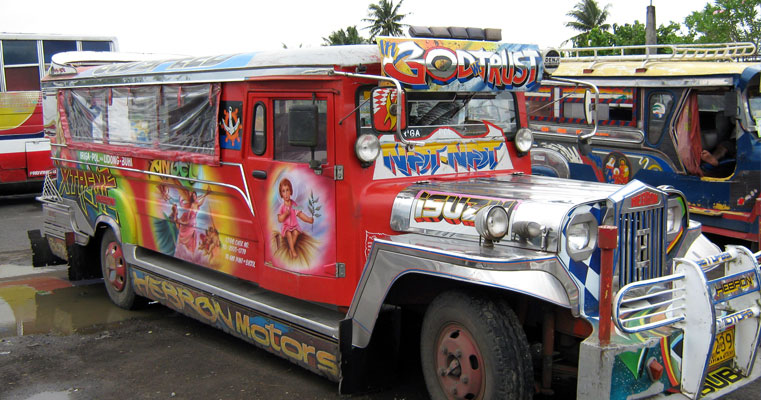 In a country that is made up of over 7,100 islands and islets, travel has a lot to do with transportation. Rest assured that options are endless for getting around, some typical and others quite unique.
BY AIR

Manila, Cebu, Davao, Clark, Subic, and Laoag are the international gateways, with the Ninoy Aquino International Airport (NAIA) in Manila as the premier gateway. It is served by more than 30 airlines, which fly to different cities around the world. The Mactan International Airport (MIA) in Cebu handles regular flights from Japan, Singapore, and Australia as well as chartered flights from Hong Kong, the United States, and other major travel capitals. Davao International Airport handles regular flights from Indonesia and Singapore. The Diosdado Macapagal International Airport and Subic Airfield in Central Luzon service both chartered and cargo planes. Laoag International Airport in Ilocos Norte services regular flights from Taiwan and Macau.
Philippine Airlines (PAL), the national flag carrier and considered "Asia's First Airline," remains the country's biggest airline company. It has the largest number of international flights to the Philippines as well as domestic flights. PAL links Manila to 14 cities in 8 countries, and flies regularly to 41 domestic destinations outside Manila.
Other airlines that presently fly the Philippine skies are Air Philippines, South East Asian Airlines, Cebu Pacific, Laoag International Airlines, Asian Spirit Airlines, and Pacific Airways – each serving popular tourist destinations at pocket-easy prices. For a more personal experience, chartered flights are available via small air companies such as Airspan Corporation (helicopters), A. Soriano Aviation, and Aerolift Philippines (small-to-medium-sized planes).
BY SEA

As the islands of the Philippines are separated by different bodies of water, the sea plays an integral part in travel. A range of seafarers are available, from huge cargo ships to small ferry boats; take long trips that last for a day or two with regular ship lines or take shorter ones with ferries. Major cruise liners call on the port of Manila.
WG&A Lines, a partnership between William Lines and the Aboitiz Group, has launched its SuperFerry Program, an affordable but convenient alternative to the usually crowded vessels of other ship lines.
BY LAND

Moving around the country by land is easy with national highways connecting the major islands and an extensive public transportation sytem, which includes the exotic Philippine jeepney. Taxis, buses, jeepneys, and trikes are the main modes of public transportation. The calesa, a more elegant means of traveling in most major cities, is more commonly offered as a "fun ride" in many public parks across the country.
Taxis provide the best means of transportation around the city, with a flag-down fare of PhP30 on the meter. For the steel-hearted, buses also tread the roads. A vast majority of city buses travel via Epifanio delos Santo Avenue (EDSA) while provincial bus lines have put up various terminals all across the country. The best means of short distance travel is the trike: the motorized version is called a tricycle, and the pedal-powered one is called a pedicab. Trike terminals are often found near a "palengke" or marketplace.
The undisputed "King of the Philippine Roads" is the jeepney. Since it first emerged after the Japanese occupation of the Philippines, it has become a fixture in roads all over the country – so much so that it is now considered a symbol of national pride. Jeepneys are adorned with colorful designs that distinguish them from one another, with themes ranging from the serious to the outright silly, but all uniquely Filipino.
WHILE YOU'RE AT CWC

While you're at CWC, the best mode of transportation are jeepneys and trikes. We have scooter rentals but they are only allowed within the Capital Complex.